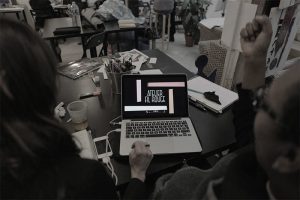 Led By HER offers a professional and personal program to help women who are in this fragile phase of rebuilding their lives and to other women who wish to create a project with a strong social impact. The program is in partnership with the IESEG School of Management and brings into play a large entrepreneurial ecosystem.
This program develops leadership and female entrepreneurship by giving our participants an education and the tools necessary to bring success to their projects with the help of expert speakers and high-level partnerships.
Our academic teachings and workshops, as well as individualized follow-up sessions with mentors and coaches, have been designed to help women transform their passions, talents and experience into real professional skills.
In addition, a portion of the courses are dedicated to personal development. Participants work on their level of confidence, active listening, emotional intelligence, values, motivation, inspiration and their creativity with the help of coaches at Le Playground school.
The Led By HER program includes 4 months of academic and practical classes, in addition to individualized coaching sessions with personal development workshops that last over 10 months.
At the opening of the program, an ideation phase confirms the validity of the project and the desire of these women to engage into entrepreneurship. Its objective is to select the participants who will subsequently access the program's teachings.
The class includes 1 mandatory day and 1 optional day per week, divided into modules. Each module corresponds to a stage of a project's progress: idea creation, project implementation and business launch.
The Led By HER program is open to all women who are in the process of rebuilding their lives:
No diploma required
Employed (in post or undergoing retraining), unemployed or jobseekers
Have an idea or business project, or even a company in the process of being launched
Note: women must be between 20 and 55 and live in the Ile-de-France region
The registration fee is €600 including all taxes.
We are recruiting our next cohort! Classes start February 2021. Registration deadline : February 22th 2021.