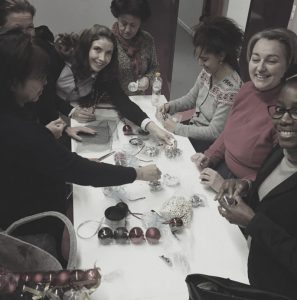 Led By HER needs your help to develop our missions in favour of women entrepreneurship and women victims of violence.
With your donations, Led By HER will be able to:
Promote the role of women and women's rights in the economy
Encourage these women to become life-long entrepreneurs and break the cycle of violence to become financially empowered.
Offer women victims of violence the opportunity to maximize their potential as leaders, creators and innovators through entrepreneurship.
Defend gender equality at work in a world where more women can become entrepreneurs, where we see more diversity and less discrimination
Each donation of €600 allows a woman victim of violence to receive a grant to finance our program to help her rebuild her life and become an entrepreneur.
Tax deduction
If I donate 50 €, my donation only costs me 17 € after reduction of my income tax.
If I donate 100 €, my donation costs me only 17 € after reduction of my income tax.
66% of the amount of your donation is deductible from your income tax, up to 20% of your net taxable income. A tax receipt is issued at the end of the year.
Respect for privacy
Your contact details are necessary to send the tax receipt and benefit from the tax reduction. We only use them for management and information purposes: we do not give or rent your details.